The Six Best Coffee Shops In Seoul
Food & Drink
Let the Japanese handle tea, because today's Koreans are all about coffee
By Ryan Walters for My Guide Seoul
When one thinks about traveling to Asia and experiencing Asian culture, there are several stereotypical images that come to mind. Golden Buddhas, traditional homes with slanted roofs, and tea all things that people expect when they envision what culture is like in Far-East Asia. All those things may be found in Seoul and elsewhere in Korea, but they're so…outdated.
Seoul is a dynamic, fast paced, and ultra-modern global city.
Let the Japanese handle tea, because today's Koreans are all about coffee. You can find a Starbucks in almost every neighborhood here, but why would you want to spend your money on overpriced, mediocre brew? Seoul has a vast abundance of cafes and fantastic coffee shops with several districts (dongs) devoted to outstanding, local coffee.
Here's six, highly recommended places for the discerning coffee lover...
Flat 274 in Buam-dong
Flat 274 has a very unique vibe to it. It is a coffee shop, gallery, and functional art studio, all at once. On walking in, there's a small art gallery off to the right. At the time of this article's writing, Flat 274 was currently exhibiting a collection of photos taken in India of local people in villages. The artwork alternates regularly, so you will likely be treated with new art each time you visit.
If you are looking for a place to see live music in Seoul, then consider yourself duly notified of Flat 274. In keeping with their artsy, yet cozy feel, Flat 274 hosts local Korean singers and guitarists throughout the month.  Additionally, they have been known to have book signings for local authors.
At the same time, the aesthetic of the interior looks like you have just walked into your Mom's kitchen at home. There's a kitchen counter, with a sink and full refrigerator behind. Various glasses for coffee, wine, beer, and tea line the kitchen walls, giving Flat 274 a very comfortable and homey feel. There's even your Mom's sewing machine off in the corner.

If you find yourself here, try one of their "Longbo" drinks. It is an interesting hybrid of drip coffee and espresso. 'Americanos' in Seoul are notoriously watery and weak, but the Longbo combines the full-bodied strength of an expresso with the liquid content of an Americano. The taste is quite good, and it's certainly better than the normal fare at Starbucks.
How to get to Buam-dong? Go to Gyeongbukgung Station, and then take city bus 7022, 721 or 1020 to Buam-dong Community Center. Flat 274 is directly across the street from where the bus lets out.

Address: 274-1 Buam-dong, Jongno-gu, 2nd floor
Telephone: +82-2-379-2741
Hours: 11am - 10pm.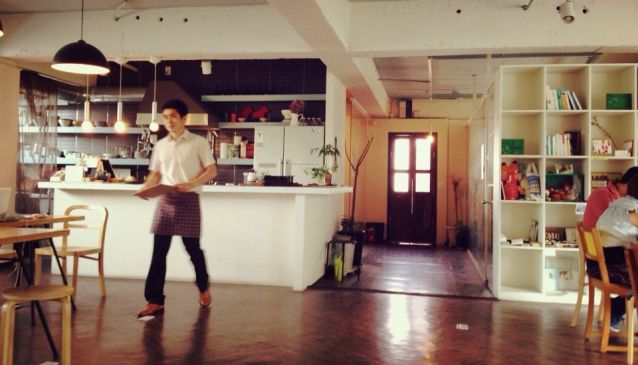 Located on the main street in Samcheongdong, Jamggodae ("Talk and Sleep" in Korean) might have the absolute best cup of coffee in Seoul.
Jamggodae specializes in hand-drip coffee for very good prices. They have three different beans to choose from, hailing from India, Guatemala, and Mexico. The owner of Jamggodae takes special care of preparing each cup of coffee, slowly adding the water through the filter to create an extremely rich cup of coffee. He takes his time and the result is outstanding. 
Jamggodae also has Dutch iced coffee, which if you have not tried before, you must make correcting this a priority. Jamggodae's Dutch coffee is incredibly refreshing and flavorful. It even has hints of chocolate in the flavor.  The price is right as well, the Dutch coffee and all of the hand-drip coffees will run you no more than 7000 won.
The décor in Jamggodae looks like an art studio and a child's bedroom, creating an intellectual, relaxing, and cute environment. There are shelves with children's toys as well as vintage Casablanca posters. A bookshelf lines the wall next to the door with books in both Korean and English.

For people who love the taste of rich, delicious, and flavorful coffee, Jamggodae is not to be missed.
How to get to Samcheongdong? Go to Gyeongbukgung Station, and then take city bus 11 to Samcheongdong Community Center. Walk up the hill, and in about five minutes Jamggodae will be on your right hand side on the second floor.
Address: 22-Beonji Samcheongdong, Jongno-gu, 2nd floor
Telephone: +82-70-4101-7869
Hours: Monday - Thursday: 10am - 11pm; Friday - Saturday: 10am - 12am.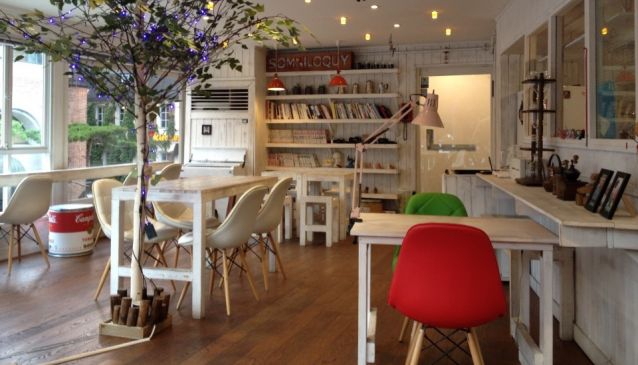 Sahara Café is located in the quiet university neighborhood of Soongsil University. While this neighborhood isn't exactly the most exciting university district in Seoul, it does contain this gem of a café; worth the effort to come out to Sangdo-dong.
One of the most distinguishing features of this café is the hundreds of books that line the walls. These books can be taken down and read at your pleasure. There are long tables with study lamps near the books, making this the perfect place to spend an afternoon reading. The quiet, academic atmosphere makes Sahara Café a popular choice for Soongsil University students to meet in small groups and discuss their lessons, or to get some reading and writing done.
This café is beautifully designed and very comfortable. There are wooden tables and pillowed chairs all throughout, with the music alternating between low-key indie rock and classical. 

Sahara's menu is fairly typical, having the normal selection of Americano, espresso and several different teas. Almost every drink at Sahara is less than 5,000 won. They have also recently begun serving lunch and the menu includes delicious bulgogi paninis, which are also quite reasonably priced.

Come here for the quiet, comfortable, and relaxing atmosphere. Bring good books with you, because once you've sat down in one of their pillowed seats with a good cup of coffee in your hand, you won't be leaving anytime soon.
How to get to Sahara Café? Take Line 7 (Dark Green) to Soongsil University Entrance Station. From Exit 4, walk uphill with Soongsil University across the street on your left. Sahara is less than a minute walk from the station, on the second floor.
Address: 501-2Beonji Sangdo-dong, Dongjak-gu, 2nd floor
Telephone: +82-2-822-0111
Hours: 11am-11pm (1pm – 11pm Sundays).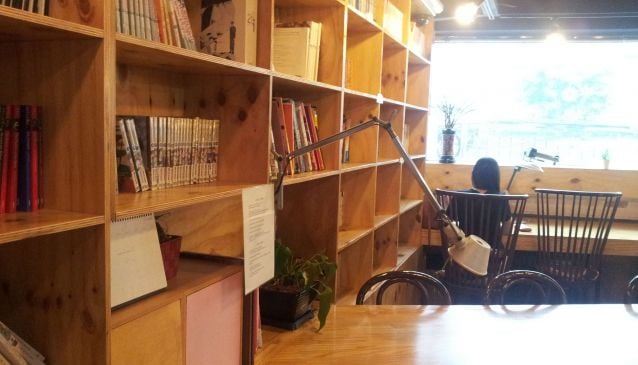 Looking for a bastion of outstanding coffee that's also a local secret (although becoming local legend)? Look no further than Coffee Libre.

Coffee Libre takes its name from the Spanish word libre…as it relates to Mexican luchador wrestlers. This is their logo, which they proudly display on their walls, tote bags and even in little plush takeaway pins. This is eccentric  enough, but there's more: Coffee Libre inhabits a space that was previously a Chinese apothecary and the owners of Coffee Libre decided to keep the medicine shelves on the walls.  So, as you sit and enjoy the coffee, a whole wall is dedicated to drawers of Chinese medicine!
This is truly a local establishment. It's located off a main road in an alleyway that you would never have gone into unless someone had told you. It's only open for a short time - between 4 and 9pm. If there is one drawback to Coffee Libre, it is extremely small. The coffee machine itself takes up about half the space in the room, leaving room for two small tables and a small bar, totaling about 8 seats.
However, don't let this stop you from visiting. The owner there is a very nice guy who speaks good English. They roast all their own beans themselves at a site elsewhere and bring them into the shop. All their coffee is their own, and you can buy it in small bags as well to take home with you. Coffee Libre is absolutely worth seeking out for its delicious roasts and intimate environment.
How to get to Coffee Libre? It's a bit of an adventure, but not too hard to find. Take Line 2 (Green) to Hongdae University Entrance Station, and leave by Exit 3. The exit is a bit off to the side of the main road, so get back on the main road and walk away from the station. There will be a 3-way intersection immediately; follow the sidewalk as it veers left and walk about 5 or 10 minutes down the street, turn left into an alleyway immediately before the next major intersection you come across. Coffee Libre is in this alleyway with the luchador painting out front.
Address: 252-15 Yeonnam-dong, Mapu-gu
Telephone: +82-10-4506-9461
Hours: 4pm - 9pm.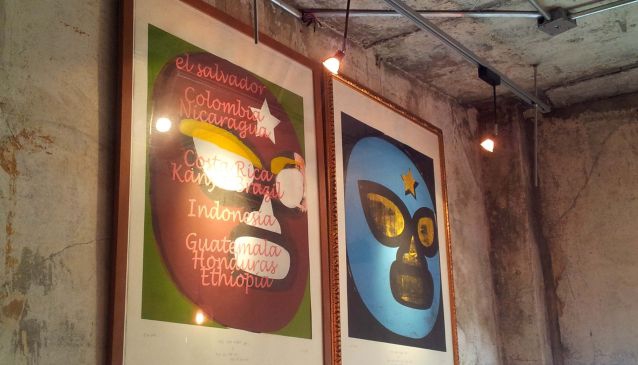 There are dozens and dozens of wonderful coffee shops, cafes, and art galleries in the Samcheongdong and Anguk-dong areas to choose from, it is almost impossible to recommend only one. If there had to be one though, know that Coffee Mashineun Goyangi ("The Coffee Drinking Cat" in Korean) ranks as one of the most superb cafes anywhere in Seoul.
The menu at Goyangi is extensive, and amazing. They have the usual Americano/espresso/latte set on the menu, but it goes so much further than that. They have hand-drip coffee, with a choice of beans from Kenya, Guatemala, Costa Rica, Colombia, and Ethiopia. 
They also have gourmet lattes that you won't find anywhere else, including Kahlua Choco and Marshmallow Latte.  What's more they have blended juices like strawberry/banana and kiwi/banana, and to top it all off, they have three different choices of chai tea (get the cinnamon chai).
Coffee Mashineun Goyangi also have a bunch menu. Brunch sets include a coffee and your choice of a croquet monsier for 7,800 won and a "wine melting cheese Panini" for 8,800 won.
Go here on a date. Coffee Mashineun Goyangi is perfectly set up for couples. It is built into a two story house and has seating on the first floor and attic.  With the wooden tables and walls, cute decorations and soft music, it is a choice romantic spot to start or end a meeting with somebody special.
Located right in on a sidestreet amongst art galleries, small specialty shops and cafes, let Coffee Mashineun Goyangi be the focal point of a great evening out in Seoul.
How to get to Coffee Mashineun Goyangi? From Gyeongbukgung Station, take bus 11 in the direction of Samcheongdong or walk east along the fortress wall and turn left onto Samcheongdong-gil at the corner. When you reach the entrance of the National Folk Museum of Korea, turn right onto Bukchonro 5-gil. Walk straight and take your next right. Coffee Mashineun Goyangi will be on your left.
Address: 19-1 Anguk-dong, Jongno-gu
Telephone: +82-2-720-8162
Hours: 10am - 11pm.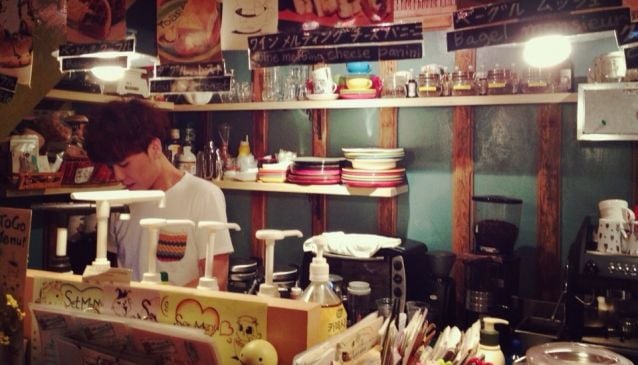 Garosu-gil has long been known locally as a spot for great cafes, coffee and shopping. These days, a lot of the smaller and independent coffee shops have been forced out of the area by larger shops, but if you take one of the many side streets off of the main Garosu-gil road, you'll still find dozens of small coffee shops serving delicious brew. Ikovox is one of these.
Inside, you feel a bit like you're in a scientist's coffee laboratory, thanks in no small part to the exceptional care the employees prepare your hand-dripped coffee with. They weigh out the beans on a scale for each cup of coffee and use a beaker and a glass funnel to slowly brew your coffee with meticulous care. If you like it, they can sell you a set of own your own to make hand-dripped coffee at home. They have a Costa Rican bean here which they are especially proud of, but it will cost you a bit though: the Costa Rican is 7,800 won for a cup.

One key reason to check out Ikovox Coffee is that they sell a lot of the beans they use in the store for good prices. You can buy their own bean blend, 100g for only 8,000 won. The Costa Rican is a bit more expensive 100g for 19,000 won.
How to get to Garosu-gil? Take Line 3 (Orange) to Sinsa Station, and exit using Exit 3. Walk straight for about two blocks and turn in left at Missa (there's also a sign here that says 'Garosugil'). To get to Ikovox Coffee, walk downhill on Garosu-gil, turn left into a sidestreet at Cloth Dictionary, and take your next right. Ikovox will be on your right hand side.

Address: 534-10 Sinsa-dong, Gangnam-gu
Telephone: +82-2-545-2010
Hours: 8am - 12am.