Top Breakfast Spots in Seoul
Food & Drink
The Whole Shebang breakfast is a serious contender for the best breakfast in Seoul
By Ryan Walters for My Guide Seoul
What does breakfast mean in Seoul? Ask the local Koreans and they'll tell you that breakfast is made of three basic elements: Rice, Kimchi and Soup - plus whatever is left over in the refrigerator. The typical Korean breakfast might range from last night's bulgogi to the pot of kimchi jjigae that has been sitting in the refrigerator for a couple days. 
However, the definition of breakfast is changing quickly with the introduction of Western residents. Seoul is capitalizing on "foreign breakfasts" in a big way!
When Seoulites feel like they want to get a fancy breakfast (or brunch), they go out for Western food. This means all the comforts of home - bacon, eggs, pancakes, sausage, toast, coffee - and all the drinks to go with it. It has become possible to get reliable, trustworthy, and delicious breakfast in many different places in Seoul. 
The options are vast  - we'll introduce five different breakfasts in five different styles that are guaranteed to satisfy whatever breakfast mood you're in. Brunch date? Check. Something to soak up last night's (and continuing on into the morning) festivities? Got it.
Click ahead for My Guide Seoul's top breakfast spots in Seoul...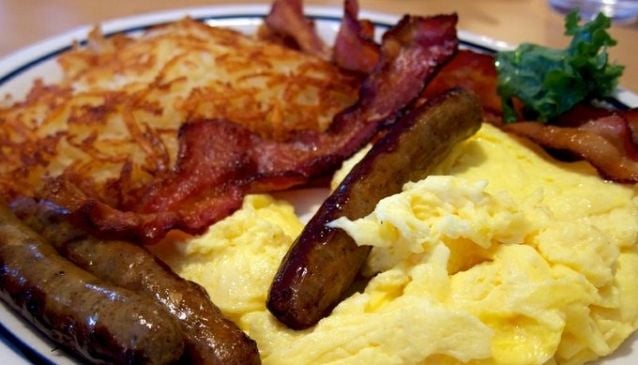 Suji's is a well-known establishment right at the entrance of Itaewon. It styles itself as a New York style restaurant/deli and serves breakfast, lunch and dinner. It's a popular go-to spot for small groups. You'll find people of all ages dining here.
Come to Suji's for a standard, reliable foreign style breakfast. They have everything that you would want, plus some things you wouldn't expect.
Scrambled eggs, pancakes, home fries and toast are all covered here.  Additionally, Suji's has several different omelettes (Denver, Spanish, Suji's deli) and the ability to create your own. To top it off, you can even find Eggs Benedict and Eggs Florentine here - not exactly readily found everywhere in Seoul. 
As Koreans view Western food as something of a treat, these breakfasts aren't exactly the cheapest; they range anywhere from 12,000 won all the way north of 18,000. You do however get a satisfying amount of food.
For those who are looking for a simple, cheaper option, try their on-the-go breakfast for 3,900 won between the hours of 8 - 10am, Monday - Friday. Suji's has three cheap breakfast sets: A bagel with cream cheese, an English muffin with egg salad or a cinnamon roll. All sets come with coffee.
Suji's Deli & Restaurant is at the entrance of Itaewon, right to the left of the "Welcome to Korea" archway.
Address: Yongsan-gu, Itaewon-dong 34-16 2nd Floor.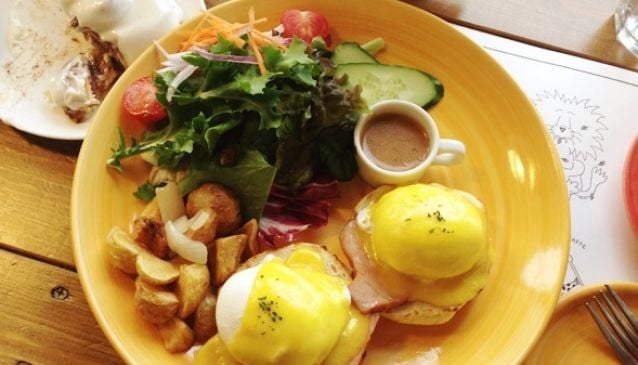 People in Seoul are some of the most hardworking people on the planet. They clock into work early in the morning and often do not come home until late in the evening.
60+ hour workweeks are something of a norm, so when they do get a chance to let off some steam, the party often goes way into the morning and sometimes when the party goes way into the morning, batteries need to be recharged...
This is where the Wolfhound Pub, an Irish-themed bar/restaurant - and its Whole Shebang breakfast - come into play!
This is a monster of a breakfast, designed to fill you with as much food as possible so you don't even need to be bothered with eating for the rest of the day.
It comes with three eggs, three slices of bacon, three sausages, three slices of toast, two hash browns, beans, and a fried tomato. Yes, you read that correctly.  Oh, and to top it off, the breakfast comes with a cup of coffee with a complimentary shot of Jameson Irish Whiskey in it, just in case your fun levels were beginning to drop.
For its size, variety of breakfast food and the Irish coffee 14,900 won is a reasonable price. That, combined with the fact that it is gigantic, meaty, greasy, and utterly delicious, the Whole Shebang breakfast is a serious contender for the best breakfast in Seoul, perhaps even in all of South Korea.
You'd be remiss to not make the Whole Shebang part of your Saturday night/Sunday morning Itaewon experience.
Address: Yongsan-gu Itaewon-dong 128-6, 2nd and 3rd floors.
Youtube Directions (by hiexpat.com).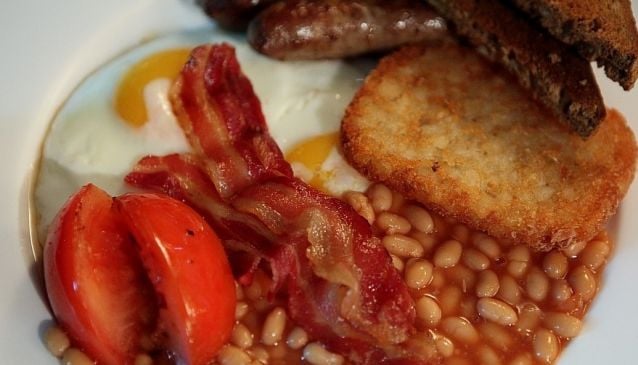 If you're looking for everything you could possibly think of for breakfast, with proper ingredients, without messing around with any fancy fusion dishes, then look no further than Butterfingers.  As the name implies, they have pancakes - and a whole lot more...
Come hungry, but not too hungry, as it's very likely you'll have to wait ten or fifteen minutes before you can be seated. Butterfingers is an extremely popular spot for everyone: Friends, family and couples. Don't be too discouraged by the waiting time - you'll need every minute of it to peruse Butterfingers' extensive menu.
Bacon, eggs, pancakes, waffles, cereal, granola, bagel sandwiches, crepes, pigs in a blanket, omlettes, macaroni and cheese…and this is only half of the menu…on the front side. There's a whole backside devoted to pancakes, drinks, and desserts!
Thankfully, the good people at Butterfingers realize that their endless menu can be a bit overwhelming, so what they (and we) recommend is getting it all with the Split Decision Plate (16,800 won). It comes with pancakes, French toast, breakfast sausage, white sausage, grilled ham steak, bacon strips, seasoned potatoes and eggs any way you want them. 
If the variety of the food doesn't sell itself, consider two things. First, the price is in the ingredients. Although you can find bacon in most Korean grocery stores, it's often a shameful misappropriation of the word "bacon" - thin, no fat, and marketed as "well-being bacon."  As if there was such a thing.
Butterfingers serves high quality, American-style bacon that is so good it would be worth coming here strictly for the bacon.  Second, this plate - as with most other plates at Butterfingers - is enough for and designed for two people. 
Butterfingers has a couple different locations in Seoul, but the one we like is in the Cheongdam district of Gangnam.
Take exit 10 out of Gangnam and turn left at the Body Shop.
Address: Gangnam-gu Cheongdam-dong 88-9.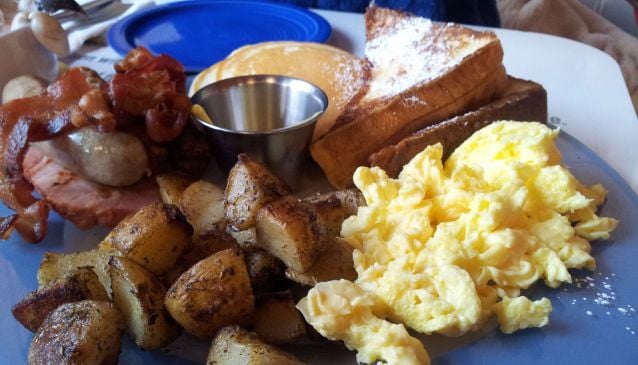 In Southern California, when you are looking to find the best and authentic Mexican food, there is a rule: Go where the day laborers go. The restaurants may not be pretty, but they'll have the absolute best food.
Hardworking people know where the find the best food. In Seoul, the parallel is the same, but the source is uniquely Seoul. The food experts in this city aren't the people who build homes - they're the taxi drivers.
Taxi drivers - or gisa ajeossi - are up at all hours, 24/7, 365 days a year. Their eating schedules and habits require two things: Places to be open at early/late hours, and good food for good prices. In order to capitalize on this demand, there are restaurants all around Seoul that specifically target and cater to taxi drivers. These are colloquially termed "Gisa shikdang" (Taxi driver restaurant), and one of these is Songgane Kamjatang.
This is you standard Korean diner that focuses on two major dishes: Bossam - steamed pork meat eaten with an assortment of vegetables - and kamjatang, which is potato and meat stew. However, if you're looking for an eye-opener you'll want to go with the Korean hangover soup called haejangguk (해장국).
Haejangguk is a regional-specific stew that comes in different forms depending on wherever you are in South Korea. The Seoul variant is a soybean-based stew loaded with many kinds of vegetables, meat, and congealed ox blood.  Don't let the ox blood scare you off - haejangguk is an extremely savory stew that will quickly become a favorite. 
The secret of haejangguk is the bean sprouts that are almost always a component of the stew. Bean sprouts contain asparagine, a molecule that helps counteract the toxic effects of alcohol. So if you happen to find yourself awake in the early morning in need of a breakfast that will begin the recovery process, follow your taxi driver to a place he would go to and get a big bowl of haejangguk, sold for 6,000 won at Songgane Kamjatang.
Songgane Kamjatang has several different locations in Seoul on both sides of the Han River.
North Seoul: Mapo-gu Yeonnam-dong, 258-5.
South Seoul: Gwanak-gu Sinlim-ro, 129.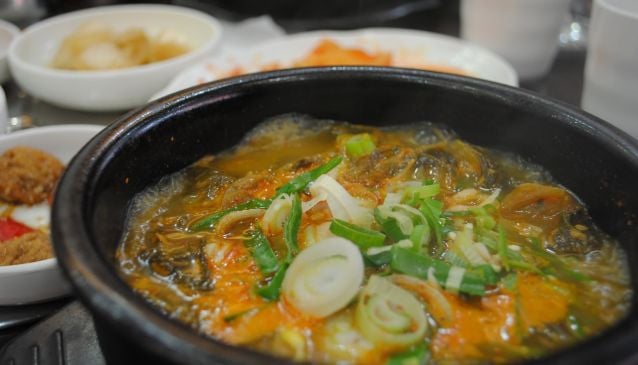 A Tex-Mex breakfast staple commonly found in homes and restaurants in the American Southwest, the breakfast burrito remains a very elusive but amazing breakfast option in Seoul.
They can be found at Tomatillo, the equivalent of a shopping mall chain Tex-Mex restaurant in Seoul, but we wouldn't recommend going there for brunch unless you already had plans to go there for another purpose. For a solid breakfast burrito, you need an ace in the hole. That's Craftworks.
Craftworks in Noksapyeong has long been known for its outstanding food and craft beer.  It is, pound for pound, probably one of the best Western/foreign restaurant in Seoul, offering a wide variety of entrée meals ranging from burgers to brunch.
It's the brunch menu that draw people to Craftworks on a Sunday. They've got it all, including omlettes, steak and eggs, and of course, the elusive breakfast burrito.
As with anything made at Craftworks, the breakfast burrito is made true to form.  It's loaded with scrambled eggs, chorizo sausage (which for the uninitiated, is spicy ground Mexican sausage) cheddar cheese, with onions and peppers.  This goes for 11,000 won, although you can upgrade by adding guacamole for an additional 3,000 won.  Which, why wouldn't you? 
Craftwork's brunch also has the additional benefit of being at Craftworks. This means you have their entire bar at your disposal. Much and more has been written about Craftwork's craft beer, but since it's your brunch, you can do it any way you like it.
With Craftwork's whiskey menu, you can style your Irish coffee in any way you please.  And although not specifically on the menu, they'll even make you a Bloody Mary if you ask nicely.
Address: Yongsan-gu Itaewon 2-dong, 651.