Seoul's Best Microbrews
Food & Drink
Since the regulations have been loosened...microbreweries are popping up all over the city.
It's no secret, Korean domestic beer leaves a lot to be desired  - and that's being diplomatic. Despite Korean food being some of the best and, these days, some of the trendiest food in the world, South Korea seems unable (or unwilling) to pair it with a passable domestic brew.
This is due largely to the fact that two companies, Hite-Jinro and Oriental Brewery have a near complete monopoly on the South Korean beer market.  These two government-endorsed conglomerates are responsible for producing the "big 4" Korean domestic beers: Cass, Hite, OB, and Max, all of which are varying shades of mediocre.
However, since 2011 the regulations on beer production have been loosened, and microbreweries are popping up all over the city. Beer drinkers around Seoul have been rejoicing with the availability of domestic, local, Korean microbrews. Spearheaded by both resident foreigner and foreign-trained Korean brewmasters, Seoul has become a beacon for excellent beer.
My Guide Seoul gives you an introduction to six local microbreweries in Seoul, a representative beer from each - and our rating. We scored them from 1 - 5 in four different categories; appearance, smell, taste, drinkability, and an overall impression score from 1 – 10. The breweries we visited are located in the districts of Hongdae and Gyeongnidan, although in the case of several of the breweries, there are multiple locations throughout Seoul. These other locations will be noted where applicable.
The six microbreweries are: Castle Praha (Hongdae), Oktoberfest (Hongdae), Queenshead (Hongdae), The Booth (Gyeongnidan), Magpie Brewing Company (Kyungnidan), and Craftworks (Gyeongnidan).
Read on to find out just which is the best microbrew in Seoul...
Author: Ryan Walters for My Guide Seoul
Research by Ryan Walters and Anthony Baber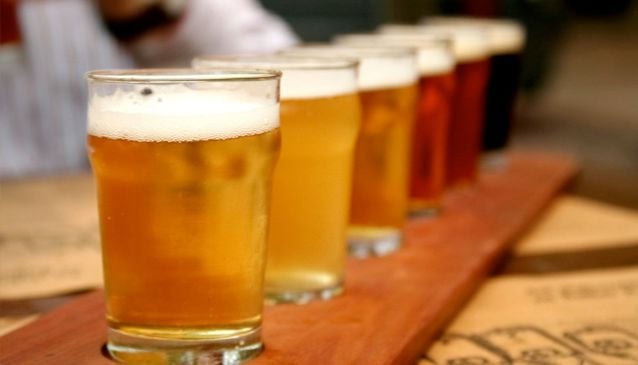 Overall score: 5.5
Appearance: 3
Smell: 2.5
Taste: 2.5
Drinkability: 4

This pilsner is your average pilsner, no more - no less. That being said, it is certainly a step above the major domestic lagers available in Korea.

It is quite carbonated and comes with lots of head, so much so that you might have to use the breadsticks Oktoberfest provides to get rid of some of it before drinking. It has a nice, light, and sweet taste that grows on you the more you drink it. 
This beer's strongest suit is its drinkability; it's definitely something you could see yourself ordering pitchers of all night long.
The price is certainly reasonable: 3,000 won for a 300mL; 6,000 for a 500mL; 11,000 for a liter, and when considering that some bars in Seoul will charge a similar price for Cass and Hite.
This pilsner is not a bad choice for someone who isn't looking for anything too heavy but wants to escape the grip of normal Korean domestic.
Oktoberfest has five different locations around Seoul, so it's easy to find this beer almost anywhere you are. The Hongdae location is extremely easy to find as it is located directly in front of Hongdae Station, exit 9.
Hours: 4pm - 1am (Mon - Sat); 4pm - 12am (Sundays/Holidays)
Address: 162-6 Donggyo-dong, Mapo-gu
Phone: +82 (2) 323 8081
Website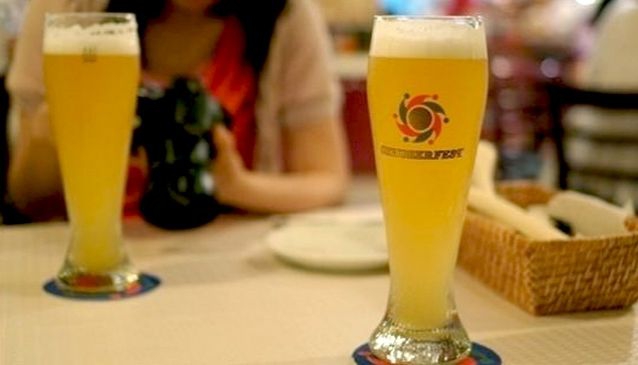 Overall score: 7

Appearance: 5
Smell: 3
Taste: 3.5
Drinkability: 3

Although this beer rates a little lower than might be expected, this is an excellent beer. It is by far the most attractive beer in this survey. It's got a very dark and rich color with a light tan head that leaves perfect rings in the glass as you drink it. 
As with most good microbrewed stouts, this one has a very full and delicious flavor. It's quite strong, although without much aftertaste, yet it will certainly please stout lovers with its strength.
However, nothing truly sets this stout apart from other stouts available. There aren't any major flavors in the malts. You don't get any hints of chocolate or coffee, nor do you get any fruit flavors like cherry either, it's a pretty standard stout.
One other thing to consider is its price: 9,500 for a regular (500 mL) and 12,000 for a large.
However, this beer does have one significant draw that would make one seek it out: Castle Praha is built like a Czech castle (!) The designers of this building spared absolutely no expense. The façade of the castle looks incredible and passers-by take pictures of it all day. The interior is decorated with full suits of armor, heraldry, weapons, and other medieval artifacts. It is one of the most unique buildings in Seoul, hands down. It might be the coolest place in Hongdae you've never heard of.
Praha has three locations. There is one in Yongsan-gu, one in Hannam-dong, but there's only one castle - in Hongdae. And really, why would you want to go anywhere else when you can drink good beer in a castle in the center of Seoul?
As you walk from Sangsu station, exit 1, turn in left at the 7 Eleven, which will put you on the main thoroughfare of the Hongdae club district. Turn left at the next 7 Eleven (the one that leads towards Gogos/FFs) until you come to the castle.
Hours: 11:30am - 2am (Mon - Thu); 11:30am - 3am (Fri - Sat) 11:30am - midnight (Sun).
Address: 395-19 Seogyo-dong, Mapo-gu
Phone: +82 (2) 344 2121
Website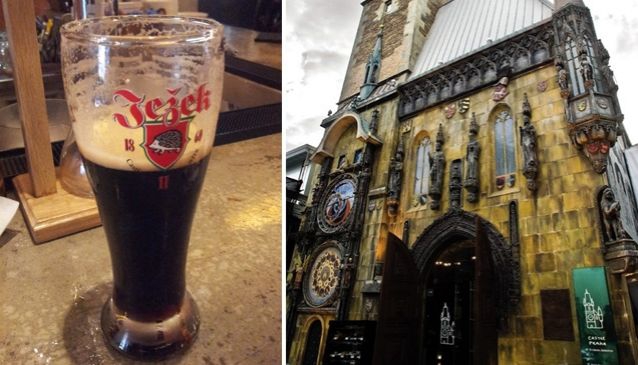 Overall: 7.75

Appearance: 4.5
Smell: 3.5
Taste: 3.5
Drinkability: 4
This is a fantastic IPA. It's got a pleasant amber color with a strong, sharp IPA kick...it's just as hoppy as you'd expect a good IPA to be and it's not lacking for anything. It's all around very solid, and the price is just as nice: 5,000 won for a 500mL.
This is the kind of beer that would go well perfectly with pizza - a fact not lost on the owners of The Booth who provide ready-to-go slices of pizza for 3,500 won and gigantic pizzas suitable for parties for very reasonable prices. If you want great beer with great, proper Western-style pizzas (no corn! no weird sauces!), it's hard to look any further than The Booth.  
The Booth is has become an extremely popular hotspot in the Gyeongnidan/Noksapyeong area, and if you want to get in on this beer, you'll need to go early. It's a small location that is filled with just the bare essentials, a kitchen, a few tables and a tap to pour Bill's Pale Ale. The artwork in The Booth is pretty cool too, featuring Pop Art and action heroes painted on the walls. 
The Booth has two locations, one in Gyeongnidan, Itaewon and one that has recently opened in Gangnam.The Gyeongnidan is the one beer drinkers should seek out, as it is adjacent to Magpie Brewery and just around the corner from Craftworks.
To get to the Gyeognidan location, walk out of Noksapyeong Station, exit 2.  Walk until you can cross under the street to the opposite side, take a left, and keep walking straight until you see Craftworks. Two alleyways later, turn right.  The Booth will be on your left, the place with all the people waiting to get in.
Hours: 12pm - 1am
Address: 705 Itaewon-dong, Yongsan-gu
Phone: +82 (2) 1544 4723
Website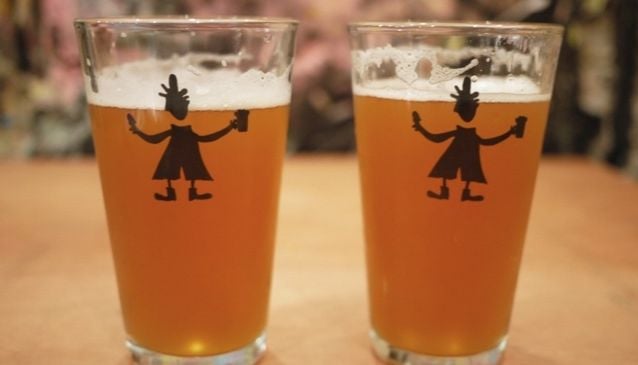 Overall: 7.75

Appearance: 4.5
Smell: 4
Taste: 4
Drinkability: 3.5
As with Bill's Pale Ale, this is an excellent IPA with very few weaknesses. It has a dark amber body with very little head, it's very hoppy, but overpoweringly hoppy. It is very smooth and quite drinkable and there's very little carbonation.  If you are an IPA drinker, you will love what Magpie Brewery has come up with - an IPA that you'll want to keep ordering again and again.
Magpie is one of the newer breweries that have popped up since the relaxation of Korea's brewing laws. It has both a beer store and a basement and it's the basement that you'll want to visit to find this beer. In addition to the IPA, they also have an excellent Porter and a Copper Ale.
The Basement is dark, but cozy. It is usually completely full of people enjoying excellent beer and side pizzas, which Magpie cooks on location.
One of the best things about Magpie is that they are getting their beers sold all throughout Seoul, so even if you don't happen to be at the Magpie Basement you can find their beers where ever you are. In the Itaewon area they are at Dandy Pink's, Maloney's, Phillies, Reilly's Taphouse, and Vatos Urban Tacos. In Hongdae these beers can be found at Rabbit Hall and in Gangnam, seek them out at Thirsty Monk (Cheongdam-dong), Hopscotch (Nonhyun-dong), and Around The Corner (Sinsa-dong).
To find the Magpie Brewery basement, walk past Craftworks and turn in right on the second alleyway on your right.
Hours: (Beer Store): 3 - 10pm (Closed Mon)
Hours: (Basement) 5pm - 2am (Closed Mon)
Address: 691 Itaewon-dong, Yongsan-gu
Website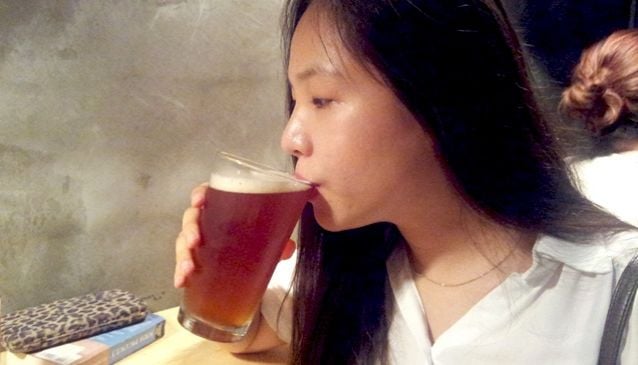 Overall: 9

Appearance: 4.5
Smell: 4
Taste: 5
Drinkability: 4.5

Choosing only one of Craftwork's eight microbrewed beers is a difficult choice, but the most all-around, crowd pleasing beer has to be the Halla Golden Ale.  This is one of the best tasting beers you will find in all of South Korea. 
With hints of citrus and slight caramel undertones, this is one of the most excellent beers you will encounter anywhere in the world. It's got a great smell and color to it and is incredibly drinkable. It's possible to have four or five of these beers and not need to drink anything else. Although it's a shade more expensive than other beers (6,000 won), the quality that you pay for is self-evident in the glass.
For microbreweries in Seoul, Craftworks is the undisputed king. They have eight different brews on tap in all varieties; pilsners, ales, stouts and a hefeweizen. All of the beers, with the exception of the Moon Bear IPA, are named after mountains in Korea. For about 9,000 won, you can get a sampler platter of each beer in a shot glass that will allow you to taste each. From there, choose your favorite(s) and begin drinking.

Not only does Craftworks provide outstanding microbrewed beer, but they may have the best foreign food in all of Seoul. They have an incredibly extensive menu filled with burgers, entrée salads, sausages, chicken, ribs, and much more. Their made-to-order hamburgers on ciabatta buns may be the best burger in all of South Korea, and their garlic mashed potatoes with caramelized onions that are served with their 'Bangers and Mash' are enough to send a diner straight into food nirvana.
To find Craftworks, head out of Noksapyeong Station, exit 2, and cross the street to the opposite side. Keep walking straight until you see the sign for Craftworks. Due to Craftwork's amazing food and excellent beers, it's best to make a reservation.
Hours: 3pm - 2am
Address: 651 Itaewon-dong, Yongsan-gu
Phone: +82 (2) 794-2537
Website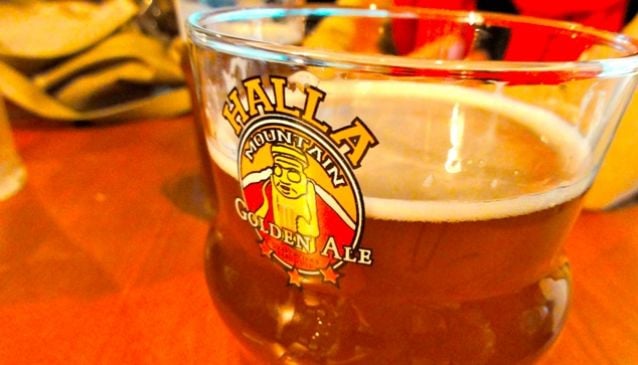 Overall: 9.5

Appearance: 4
Smell: 4
Taste: 4.5
Drinkability: 5

Unknown to most people, on a road that thousands of people walk on in Hongdae every night, is Queenshead. Although they prominently display a sign just across from G8 Hookah and nearby foreigner haunts such as Gogos, FFs, Bricx and Shamrock and Roll, not many people know Queenshead. Yet they are quietly producing the best microbrewed beer in Seoul.
The Weizen at Queenshead is a remarkable beer. There is nothing else a beer drinker would want out of a beer. The taste is outstanding and becomes better with each sip. It's a true hefeweizen and has that wonderful taste characteristic of wheat beer.
Although some people would probably give places like Craftworks the best ranking, the Weizen at Queenshead edges the top spot for its combination of taste, drinkability and price. This beer only costs 4,000 won for a 400mL, making it one of the cheapest beers on this survey, while at the same time delivering outstanding taste. This beer is very drinkable, although hefeweizens tend to be on the heavier side, this one sits in the stomach extremely well. Drinking only one of these beers simply isn't an option....
Queenshead itself is a very relaxing spot, perfect for having beers during the day. The bar is designed as if it was one set in a countryside town in England.  Although the bar itself is entirely covered, Queenshead has set up a model street and sidewalk giving the illusion that one is drinking at a table alongside a cobbled street. This effect is made complete with street lamps right alongside your table.
The interior has two floors, with the second floor having a fireplace and comfortable tables and chairs  With one (or many) of these Weizens in hand, Queenshead is the best place to hang out with friends and drink in what we believe is the best, locally brewed beer in Seoul.
To get to Queenshead, turn left at the 7 Eleven as though you were going to Gogos. The sign for Queenshead will be on your left well before you arrive at Gogos or Shamrock and Roll.
Telephone: +82 (70) 8954 6324
Address: 407-16 Seogyo-dong, Mapo-gu