Best Patbingsu Places in Seoul
Food & Drink
Get a Miltop bingsu to go and take it to the rooftop garden, the view is fantastic
By Camille Park for My Guide Seoul
Stay cool in summer with Seoul's favorite dessert - the renowned Patbingsu (Adjuki-bean ice dessert). Camille Park, a local Seoulite, urban fashionista and director of the Bangkok based brand wwa Seoul gives us the inside scoop of some of the best Patbingsu places in Seoul...
If you're not familiar with this shaved-ice dessert, only eaten in summer, all-time favorite among Koreans, it's made of grinding ice with boiled red beans, sticky rice cake and syrup, sounds delicious right?! If you haven't tried it yet, there's still time - Summer in Seoul is not over just yet!
Coffeest
Coffeest is one of Camille's favorite cafés in Seoul because they roast their own coffee beans and as you can imagine... this place is always filled with a wonderful aroma.
Coffeest serve Patbingsu as a seasonal item on their menu in summer. Most cafés in Seoul use an automatic machine to grind ice, but Coffeest only use a hand-operated one for the ice.
One of the quirky but unfamiliar cool things about this place, is that sometimes they may be out of red beans and ttuk (rice cake), meaning you can't order the patbingsu (you'll just have to try your luck). Every day, they make moderate amounts of red bean and ttuk - all homemade and when it's out…well it's out!
Coffeest is not only known for their patbingsu, which may or may not be available (usually is) but they're also famous for brewing good coffee. Try the 'Vienna coffee' after sharing a patbingsu with your friends.
Located in Sinmunno near by Gwanghwamun and City Hall, a visit to Cofeest is also the perfect opportunity to take a rest in a tranquil area away from the hustle and bustle. If you're into art galleries, visit Sungkok Art Museum, just opposite side of Coffeest.
Patbingsu 7,000 won / Vienna coffee 5,500 won
Opening Hours: Monday to Saturday: 10am - 11pm / Sunday: 12pm - 10pm.
Address: 1-335 Sinmunlo 2ga, Jongno-gu, Seoul / Telephone: +82-2-773-5555.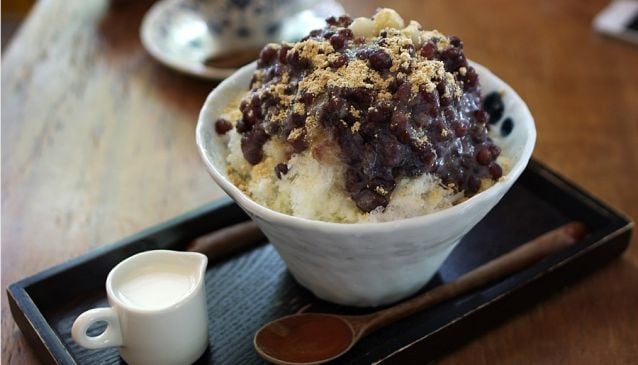 Hap is actually a store selling traditional Korean cookies and rice cakes. They have branches in Insadong and Cheongdam but only the Cheongdam branch has its own café. Hap is renowned for its bingsu as well as their delicious traditional Korean cookies.
The significant thing about Hap Café, is that they only have one bingsu on the menu; the Citrus Bingsu. It's got a wonderful refreshing taste of lemons, homemade with milk.
The café interior is set up in an old vintage style, decorated with old sewing machines and brassware. Their plaiting is very traditional and unique. Definitely worth a visit!
Although the bingsu here is the most popular item, we strongly recommend tasting their other desserts as well, like the 'Injeolmi' (Korean traditional rice cake) made from the glutinous rice and coated with bean flour, if you can get yourself to open the pretty packaging which is so aesthetic – it's almost a shame to unwrap and eat!
Yuja bingsu 8,000 won / Injeolmi 6,000 won
Opening Hours: Monday to Sunday: 12 pm - 9 pm.
Address: 2F 93-3 Cheongdam-dong, Gangnam-gu, Seoul / Telephone: +82-70-7532-4819.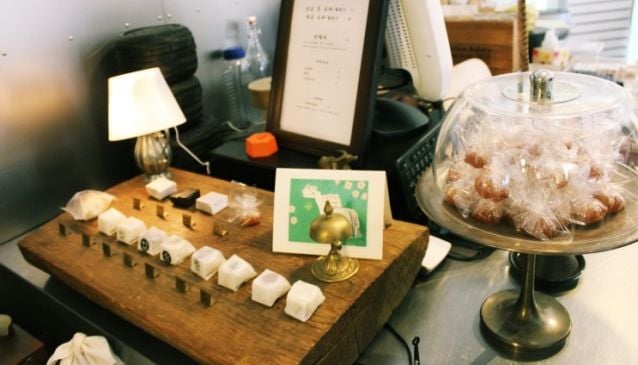 Miltop Bingsu is probably the most famous Bingsu café in Seoul. It has been in business since 1985, located inside the main branch of Hyundai Department Store in Apgujeong.
In summer, there might be more than 100 people on the waiting list to get in. If you get Bingsu to-go, the wait is shorter and here's a local tip; get a Miltop bingsu to-go and take it to rooftop garden (6F of the building) - the view is fantastic!
You can find a few Miltop branches in other Hyundai Department Stores, but people say the main branch is the best - go see for yourself.
The most popular bingsu on the menu is Miltop Mlik Bingsu, which is made with frozen milk instead of ice. The Green Tea Bingsu is also a popular item on the menu here and if you don't fancy cold desserts, Patjuk (Hot red bean soup) is good alternative.
Milk Bingsu 7,000 won / Green Tea Bingsu 7,000 won / Coffee Bingsu 7,000 won / Fruit Bingsu 7,000 won/ Red Bean Hot Soup 7,000 won.
Address: 5F Hyundai Department store Apgujeong main branch, 429 Apgujeong-dong, Gangnam-gu, Seoul.
Opening Hours: Monday to Sunday: 10:30am - 8pm.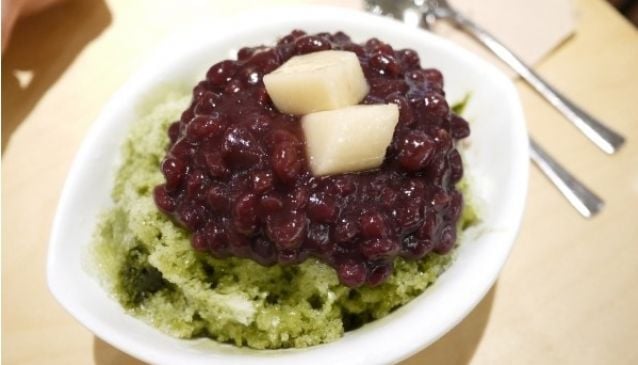 Okrumong is another bingsu spot in Seoul, located in Hongdae near the Juchajang (parking area).
This place only just launched last year but it has already made a name for itself as a good patbingsu café in Seoul.
At Okrumong, they're committed to boiling Adjuki-bean in a traditional caldron for several hours. You can see how they make it through the window in the cafe.
The sticky rice cake you normally find on top of every bingsu dessert, is also homemade and it is less sweet than other patbingsus. Finally, Okrumong also scoop the bingsu in a frozen brass-ware, to keep it cool before serving.
If cold desserts are not your thing, you can still try the special Adjuki beans - come here in winter and try the hot red bean soup.
Kamasot (caldron) Patbingsu 8,000 won.
Address: 402-18 Seokyo-dong, Mapo-gu, Seoul / Telephone: +82-2-325-4040.
Opening Hours: Monday to Sunday: 12pm - 11:30pm.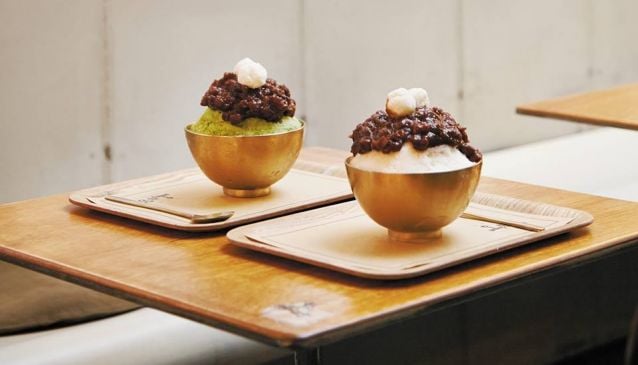 Bing Bing Bing is one of the few bingsu cafés in Seoul serving bingsu all year long and they constantly renew and update their menus on a monthly basis.
Bing Bing Bing opened their first branch in Hongdae and soon after, they launched their second branch in Cheongdam last March.
One of the cool features of this place is their secret partnership with Grandmother Gom, owner of a famous Korean restaurant in Hongdae and also the Godmother of red beans.
All the bingsu's here are made with organic sugar to reduce calories. Try the Yogurt Bingsu topped with homemade blueberry jam and yogurt - also homemade. Bing Bing Bing is one of the only places in Seoul serving yoghurt patbingsu.
The monthly menu in August is Watermelon Bingsu. All bingsus are also available to-go.
Yogurt Bingsu 7,700 won.
Address:
Main branch: 395-199 Seokyo-dong, Mapo-gu, Seoul / Telephone: +82-70-7723-7191.
Second branch: 5-29 Cheongdam-dong, Gangnam-gu, Seoul / Telephone: +82-70-4177-719.
Opening Hours: Monday to Sunday: 12pm - 9pm.